When I planned my trip to India, it sparked a reading spree like never before! I read books set in India that spanned both geography and time, accompanying me on my journey via trains, planes and rickshaws across the country.
Some of my all-time favorite books set in India include the classic A Suitable Boy (a commitment at 1,349 pages) and the heartbreaking The Lowland set in Kolkata. I can remember carrying around the former in print form; a rather hefty volume for my daily commute!
This list includes stories that help to capture the diverse culture of this colorful country, fueling my fascination with this incredible place. These novels taught me more about concepts such as caste, honor and partition than any guidebook, while discovering some delicious cuisines and helpful local phrases along the way.
Please note: This post contains affiliate links. For more information, see my disclosures here.
Want two of these Books Set in India for free?
Try Amazon Audible free for 30 days and get 2 free audiobooks which you can play on loads of devices. Ideal for listening while gazing out the window. Best of all, you can cancel at any time and you can keep your books forever!
Bookstores In New Delhi
In New Delhi my favorite independent bookstore discovery was the Full Circle Book Shop in Khan Market. The store has a fantastic selection of English books set in India and I ended up leaving with a very heavy bag. Attached to the store is Cafe Turtle a hangout for locals and expats alike. The outdoor patio is the perfect spot to get absorbed in a book.
Books Set In India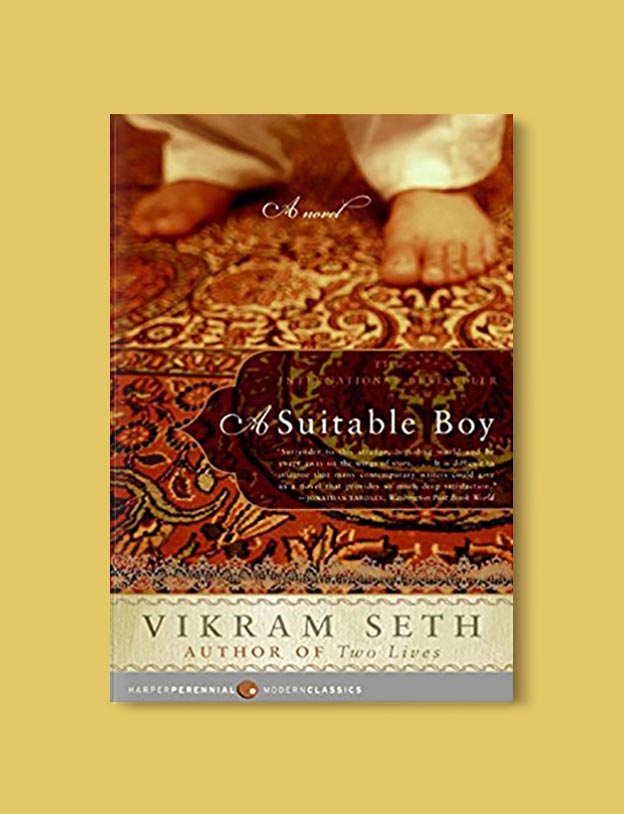 Vikram Seth's novel is, at its core, a love story: Lata and her mother, Mrs. Rupa Mehra, are both trying to find — through love or through exacting maternal appraisal — a suitable boy for Lata to marry. Set in the early 1950s, in an India newly independent and struggling through a time of crisis, A Suitable Boy takes us into the richly imagined world of four large extended families and spins a compulsively readable tale of their lives and loves.
The year is 1969. In the state of Kerala, on the southernmost tip of India, fraternal twins Esthappen and Rahel fashion a childhood for themselves in the shade of the wreck that is their family. Their lonely, lovely mother, Ammu, (who loves by night the man her children love by day), fled an abusive marriage to live with their blind grandmother, Mammachi (who plays Handel on her violin), their beloved uncle Chacko (Rhodes scholar, pickle baron, radical Marxist, bottom-pincher), and their enemy, Baby Kochamma (ex-nun and incumbent grandaunt).
In turn-of-the-millennium India, a penniless would-be writer halts work on his novel only to feed his ceaseless desire for his beautiful wife. Then a chance occurrence moves the lovers to a sprawling old house in a mist-shrouded spur of the lower Himalayas, where a set of diaries written by a glamorous American adventuress is uncovered during renovations. Her words irresistibly draw the writer away from his beloved, thrusting him through the hole of history into another world and time, revealing dark secrets and overturning all certainties.
4.
Shantaram
By Gregory David Roberts, 2003
"It took me a long time and most of the world to learn what I know about love and fate and the choices we make, but the heart of it came to me in an instant, while I was chained to a wall and being tortured."
So begins this epic, mesmerizing first novel set in the underworld of contemporary Bombay.
Born at the stroke of midnight, at the precise moment of India's independence, Saleem Sinai is destined from birth to be special. For he is one of 1,001 children born in the midnight hour, children who all have special gifts, children with whom Saleem is telepathically linked.
But there has been a terrible mix up at birth, and Saleem's life takes some unexpected twists and turns. As he grows up amidst a whirlwind of triumphs and disasters, Saleem must learn the ominous consequences of his gift, for the course of his life is inseparably linked to that of his motherland, and his every act is mirrored and magnified in the events that shape the newborn nation of India. It is a great gift, and a terrible burden.
6.
The Lowland
By Jhumpa Lahiri, 2013
Epic in its canvas and intimate in its portrayal of lives undone and forged anew, The Lowland is a deeply felt novel of family ties that entangle and fray in ways unforeseen and unrevealed, of ties that ineluctably define who we are.
Navigating between the Indian traditions they've inherited and the baffling new world, the characters in Jhumpa Lahiri's elegant, touching stories seek love beyond the barriers of culture and generations. In "A Temporary Matter," published in The New Yorker, a young Indian-American couple faces the heartbreak of a stillborn birth while their Boston neighborhood copes with a nightly blackout. In the title story, an interpreter guides an American family through the India of their ancestors and hears an astonishing confession. Lahiri writes with deft cultural insight reminiscent of Anita Desai and a nuanced depth that recalls Mavis Gallant.
The white tiger of this novel is Balram Halwai, a poor Indian villager whose great ambition leads him to the zenith of Indian business culture, the world of the Bangalore entrepreneur. On the occasion of the president of China's impending trip to Bangalore, Balram writes a letter to him describing his transformation and his experience as driver and servant to a wealthy Indian family, which he thinks exemplifies the contradictions and complications of Indian society.
Set in mid-1970s India, A Fine Balance is a subtle and compelling narrative about four unlikely characters who come together in circumstances no one could have foreseen soon after the government declares a 'State of Internal Emergency'. It is a breathtaking achievement: panoramic yet humane, intensely political yet rich with local delight; and, above all, compulsively readable.
Among the greatest novels of the twentieth century and the basis for director David Lean's Academy Award–winning film, A Passage to India unravels the growing racial tension between Indians, uneasy at best with colonial power, and the British, largely ignorant and dismissive of the society they're infiltrating. A sudden moment of confusion results in a devastating series of events that threatens to ruin a man's life, revealing just how deeply—and swiftly—prejudice has taken root.
In a crumbling, isolated house at the foot of Mount Kanchenjunga lives an embittered old judge who wants to retire in peace when his orphaned granddaughter Sai arrives on his doorstep. The judge's chatty cook watches over her, but his thoughts are mostly with his son, Biju, hopscotching from one New York restaurant job to another, trying to stay a step ahead of the INS, forced to consider his country's place in the world.
12.
City of Djinns
By William Dalrymple, 1993
Sparkling with irrepressible wit, City of Djinns peels back the layers of Delhi's centuries-old history, revealing an extraordinary array of characters along the way-from eunuchs to descendants of great Moguls. With refreshingly open-minded curiosity, William Dalrymple explores the seven "dead" cities of Delhi as well as the eighth city-today's Delhi. Underlying his quest is the legend of the djinns, fire-formed spirits that are said to assure the city's Phoenix-like regeneration no matter how many times it is destroyed. Entertaining, fascinating, and informative, City of Djinns is an irresistible blend of research and adventure.
What do you think of these books set in India?
Have a great book recommendation I've missed? I'd love to hear about more books set in India in the comments below!